How Uncertainty Gives Me Hope
Today, I am waking up in a world that feels full of individuals who bet it all on black and lost. It is a world filled with panic and uncertainty. We are all suffering from a lack of clarity, especially around who can (and should) be trusted to provide vital, life-saving information.
Never before have we, as the humxn race, had more access to information. Never before have we felt so unsure as to what decision to make. Choice = Opportunity
As COVID has "gone viral," so have our conversations and the information we share. I have seen countless coronavirus posts ranging from toilet paper memes to CTAs to do our American duty, as our grandfathers did (even though they fought in actual wars), by staying on our couches. One of the most heart-wrenching posts I saw was from a friend, whose husband is a nurse. She took a photo of him speaking to his children, through a fence, with gloves and a mask on, since he is separated from them for their own health and safety.
I want to take a moment here to share my deep gratitude for all those who are fulfilling essential duties during these times. I see the sacrifice you are making and the time you are missing with your family, and I appreciate your commitment, expertise, and hard work. I also appreciate all the families who are holding it together at home, praying for their loved one's safety. Thank you.
In light of it all, things may seem bleak and hopeless right now. It can feel like we have no choice in the matter.
But we do have a choice. And we will continue to have a choice three, six, even 12 months from now.
As a nation, and as a world, we have the chance right now to choose how humanity moves forward. And we must choose, because whether we fight it or not, we will move forward. (It's what humxns do.)
Personally, I think this choice is an opportunity for all of us.
What Are You Looking for?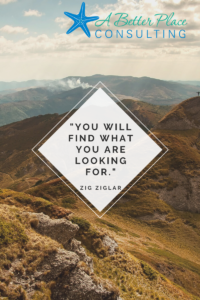 As Zig Ziglar said,"You will find what you are looking for." As you look around you right now, what do you see? Are you watching the pandemic spread as the numbers skyrocket? Focused on our stock market crashing? Scary things may be happening right now, but those aren't the things I'm looking for.
When I look around right now, I can easily see groups of college kids coordinating childcare for healthcare workers. Small business owners innovating and launching awesome, creative ideas to serve their communities. CEOs foregoing their salaries to pay their teams.
I know what I'm looking for. And I like what I am seeing.
So, what are you looking for? What are you choosing to see? What will you focus on tomorrow? What will you prioritize and value?
Reconnecting & Reengaging
In a surprisingly short period of time, we have already proven so many of the activities we once considered absolutely necessary aren't quite as essential as we once thought. Despite this shift, though, we continue to make connections. And many of us are already learning new ways to build not just connections but our companies.
I am happy not about this virus. But I am excited about the possibility of this new way of life.
I am excited about returning to the essentials. I embrace the chance to cut back my schedule to only the most essential meetings. I am thrilled about the resurgence of home-cooked meals, eaten around family tables. I am loving the bedtime stories and quality time spent with loved ones. And I'm enjoying the unexpected reminiscing that happens each time I pick up the phone to talk with another humxn in a way I haven't since I was 12 (back when my phone still had a spiraled cord attached to it).
Basically, I'm grateful for the vulnerability this virus has highlighted in all of us. I see the shared connection and humxn-to-humxn compassion it has encouraged. I appreciate that our circumstances have inspired us to once again find joy in the little things in life.
This is a new time; let's all make it count. Catch up on reading. Finally write that book that you have been carrying in your head. Take time for daily meditation. Improve your self-awareness. And genuinely connect with your fellow humxns, who are going through exactly the same things you are.
Start Today
Today, when I made my phone calls, I made a point to connect. I thanked all of the bankers, school administrators, stores, etc. just for being there during this time. With great compassion, I wished them health. And I found, when I did, they were just as connected and grateful in return.
Yes, we can all agree the world is changing right now.
Yes, the information out there is conflicting and confusing.
Yes, it can be scary, if that's what you're looking for.
And yes, I'm still hopeful.
I'm hopeful the care and compassion I'm seeing right now is the beginning of our return to a collaborative life. I'm hopeful we're wiping the slate clean. I'm hopeful we're facing a blank canvas that we can all use, together, as we go forward.
In fact, I can't wait to see the epic masterpiece we create out of this beautiful, unpredictable, uncertain gift we call life.
What are you looking for right now? Tell me more in the comments.