Why You Need an Email Autoresponder
"Bunny, your email autoresponder message might as well be a giant picture of a middle finger."
This was the comment from one of my colleagues after catching up over lunch.
Intrigued, I responded with a, "How so?".
My colleague responded by telling me that my voicemail instructs people to email me for normal requests and text for urgent issues, yet when he sent me a text I did not respond for 30 minutes.
I smiled and asked, "Do you remember what you were texting me about? Was it important?"
He laughed and agreed, "No, I guess it could have waited." 
We live in a world of constant electronic connection. This can lead to some incredibly outrageous expectations for relationships and interactions.
My personal self-care time is the most important thing to the success of my business. Yet, during my off time, in the past I felt myself responding to email #537 late into the evening so that I didn't feel like I was ignoring anyone. My clients are the second most important thing to my business, yet minutes before a session I was cramming out a response to an email rather than diving into my notes from our last session. Email was sucking the enjoyment and precious time out of my business. I had a problem. I had to either create more time or fewer emails. We all have the same 24 hours so I made a choice. The autoresponder would handle the expectations so I could handle the important things in my business AND my life.
Inspiration & Results
My autoresponder is a source of many conversations. I turned it on after reading the
4 Hour Work Week by Tim Ferris
. (A productivity and strategy must read for all entrepreneurs and small business owners.) I watched in awe as my daily emails dropped from 380 down to 13 a day...IN A MONTH. This means that I can intentionally respond to these 13 emails in a meaningful way when it is time appropriate. People either found what they were looking for through my autoresponder, texted me directly if it was important, or emailed the appropriate contact person according to my autoresponder. I may have lost a prospect or two but overall my bottom line has soared since turning it on.
Productivity
My colleague was correct that my voicemail does kindly ask that you email me and not leave a voicemail. It takes me 27 seconds to retrieve a voicemail on my phone. Add in the time that it takes to listen to the actual voicemail and take a written note of the phone number and message so I can respond and it is well over 3 minutes. An email takes me 20 seconds to read. On average my response takes 45 seconds. I also have a written account of our previous conversations leading to less time updating my records of our verbal conversations and a higher level of accountability.
Instant Answers
My autoresponder given my clients the resources they need to have many their questions answered immediately - through my website links or team emails.  For an invoicing question, I used to have to email my accountant, wait for a response, then email back the client, sometimes this was up to 2 or 3 times to find a resolution. By including my accountant's email address in my autoresponder, clients can contact my CFO directly and have immediate solutions to their questions.
What should it say?
I update my autoresponder on a monthly basis to include the most relevant services and information for my company. I try not to let it get stale. I always include a message from me directly at the top that shows gratitude and appreciation of your communication and sets appropriate expectations for my individual response. Then it goes into options if you need immediate services or would like more information.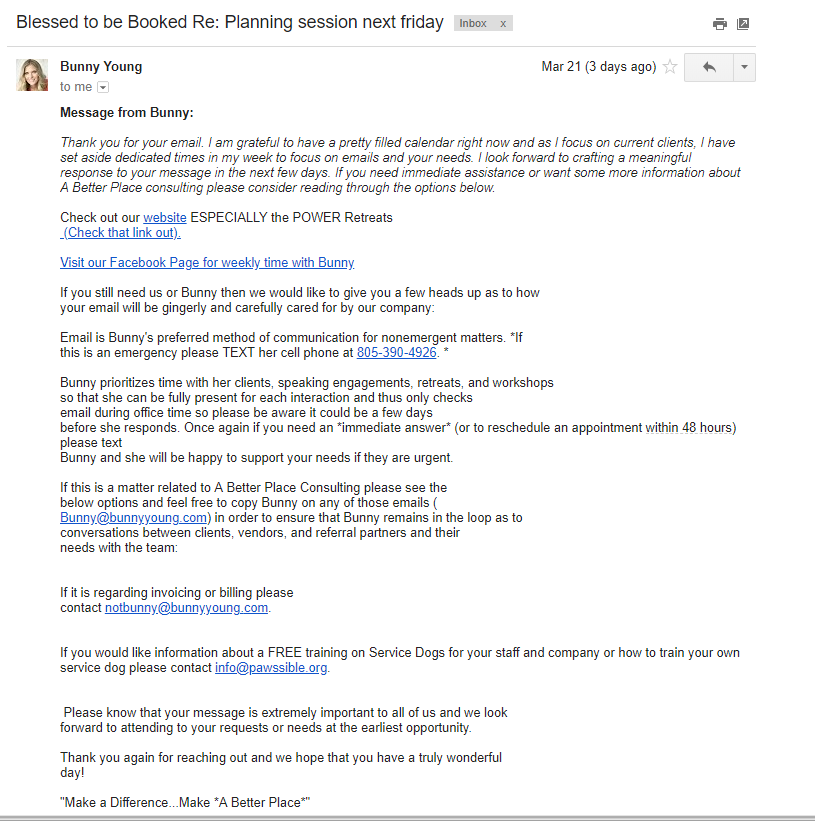 Ready to give it a try?
Send your results and questions my way!  Still not convinced that an autoresponder message is not right for your business....
What if you had a tool that...
Set reasonable expectations for your clients and prospects
Saved you 6 hours a week
Increased traffic to your website by triple digits
Decreased your stress
Led to 30% more conversions in your first month
AND meant you could see the bottom of your inbox occasionally
Wouldn't you use that tool?